Tests whether subtables can be opened and have data. More...
#include <TBTest.h>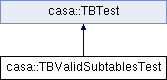 ---
Detailed Description
---
Constructor & Destructor Documentation
Constructor that takes the browser parent.
---
Member Function Documentation
Implements TBTest::checks().
For each subtable in the keywords: "Subtable [name] can be opened and has at least one row of data."
Implements casa::TBTest.
---
The documentation for this class was generated from the following file: